Base prices
Hourly rates
Under 5 years old
Over 6 years old

Wednesday

Wacky Wednesday Promotion!
From 4 p.m., also valid in summer
9

$

18

$

Thursday

Unlimited evening
From 4pm, also valid in summer, but at Summer Season prices
11

.50$

23

$

Friday

During school season

11

.50$

23

$

Weekends, school vacation and summer season

Summer season:
Saint-Jean Baptiste to Labour Day
14

.25$

28

.50$
Get 10% off if you are between 8 and 19 climbers and 20% for 20 climbers or more!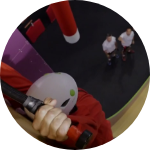 Vertical Drop
Learn more
Vertical Drop
Dressed in an ultra-slippery suit, try to keep your hands firmly attached to the handle that will take you more than 10 m high. You will then be completely suspended in the void and will only have to let yourself fall... Do you dare go all the way to the top?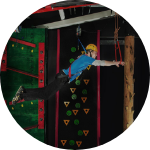 Leap of Faith
Learn more
Leap of Faith
Imagine: launching yourself towards a trapeze from a springboard 8 meters above the ground while being simply held by a back harness... this experience provokes a good dose of adrenaline!
Subscriptions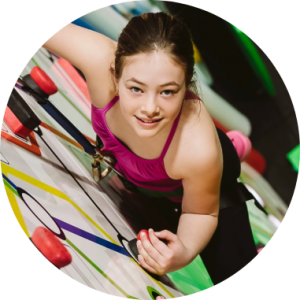 Chimp Academy
Access to a 12 class session
No open sessions included
Special
offer!
50% discount (110$+tx) on a 12-week Open session membership with the purchase of a Chimp Academy membership.*
*Offer only available at the cash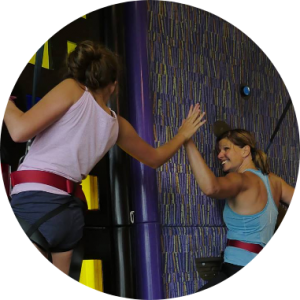 Open session
Unlimited access during open sessions
Informations additionnelles
The above prices do not include taxes.
It is important to book in advance
We ask that you arrive at least 10 minutes in advance
Closed shoes required (no climbing shoes or sandals)
For children 14 years old and under, an accompanying parent is mandatory
One accompanying adult (or adult participant) minimum per 6 children
Climbing sessions start at the correct times and last 75 minutes. A 15-minute safety briefing, followed by 60 minutes of free climbing.
For the free fall and angel jump, a double try involves one person doing a super challenge twice. A person wanting to do both super challenges once each (once the freefall and once the angel jump) must purchase two single tries.